HEALTH
ACTION
THE NEW HEALTH ENGAGEMENT
Move Over Health Engagement, Here Comes Health Action
Health engagement is not enough. Healthcare organizations may be constantly interacting with members and patients but they're not connecting—engagement isn't moving people to take action. Engagement rates of 60%, 70% or more don't necessarily equate to actual health action. Nor do they mean that people are being motivated to do something that's good for them. This gap between engagement and action is critical, because the actual action is what leads to better health today, lower healthcare costs, and better outcomes in the long term.
Health plans and providers need to move to a more human-centric approach to keep their members and patients—think friendly conversations powered by smart technology and AI. This means putting data to work for healthcare like every other industry on the planet.
This is where health action takes over. Health action is about getting people to do things that are good for them. It goes beyond checking the engagement box using data analytics, the right channels, and personalized messaging. Health action moves members and patients to do something specific that helps them to live longer, healthier lives and improve outcomes.
Members and patients who get an annual wellness visit are more likely to get preventive screenings for chronic diseases, but only 16% of Medicare recipients get an annual wellness visit each year.
Using Revel Connect, clients increased scheduled annual wellness visits by 10%.
For health plans and providers, digital trust building through strong health action programs is a relatively new undertaking, one that can be further complicated by changing external pressures, evolving technologies, and even the different demographics of members and patients themselves. Achieving strong Medicare Star Ratings is a good goal, but ratings like Stars, HEDIS, and others are really just the measures of the true end goal of health action: better health outcomes.
To learn more about how health action can move people to live healthier lives (and boost your Medicare Star Ratings), view our SlideShare, 10 Universal Truths of Health Engagement.
Creating a Strong Health Action Strategy
Although initially many organizations made strong advancements in Medicare Star Ratings, that progress has stalled over the past couple of years. Based on CMS reporting in late 2017, many healthcare organizations are no longer seeing Medicare Star Ratings improvements. This is could be due to healthcare organizations using the same traditional, often outdated health engagement methods. A lack of personalization, the wrong modalities, and even poor choice of frequency can backfire, resulting in poorer results.
Healthcare organizations need to focus on strong health action strategies that take into account the needs, motivations, preferences, and behaviors of their members and patients. Health action works because it's personalized and based on individual data and preferences. In other words, the same set of channels won't work equally well for every person, even within the same generation.
It may take a combination of the right mix of channels to inspire action, but continuously collecting data will help humanize and support this process. No matter a person's preferred communication method, understanding and taking action on this data will help drive a personalized experience. When we develop communication and outreach plans as unique as the individuals receiving them, we're maximizing the likelihood of engagement. As a result of this individualized approach, people feel empowered to take action.
The evidence for the benefits of health action programs is compelling. Increased consumer satisfaction and loyalty, improved acquisition and retention rates, lower administrative costs, and improved profitability are just the beginning.
A strong health action strategy contains the following elements:

Personalization is the cornerstone of a strong health action strategy. Healthcare organizations must deliver relevant messages according to stated individual preferences and past behavior.
Rewards should be considered, including meaningful incentives that help increase loyalty and satisfaction.
Healthcare organizations should strive to use education that overcomes objections to desired behavior. They must deliver that information in a way that is customized to the individual's preferences or it will be ineffective.
Member and patient abrasion should be avoided through effective communications that are planned carefully. Touch points need to occur when it's convenient for the individual, not sent as part of one massive, generic message.
In summary, personalizing communications can reduce member and patient abrasion and decrease barriers to health action. Data helps refine those messages and target them to individual preferences, as well as predict behavior down the road.
Finally, integrating information from every source maintains a cycle of continuously updated information, so that health action strategies can adapt and transform to meet the changing needs of members and patients.
Choosing the Right Health Action Platform
The right strategy requires the strongest technology platform available. A health action platform must be able to receive, manage, and deliver actionable data. It must provide the opportunity for sophisticated data analytics, and have strong, customizable reporting capabilities. All of this needs to occur within a flexible, compliant, real-time environment that is easily integrated with enterprise systems.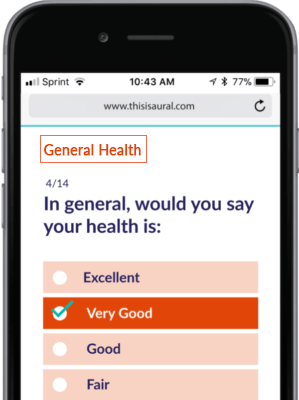 More than 145,000 people in the U.S. are diagnosed with colorectal cancer each year, but only about 60% of Americans over the age of 50 get preventive screenings.
Revel Connect drove over 50% of people to take and return an at-home cancer screening kit, resulting in 337% growth.
Modern health action programs require technology that can handle multiple modalities, from traditional interactive voice calls to text messaging. The right health action platform allows health plans and providers to conduct custom programs that are not only agile, they're adaptive, continuously learning, and affordable. And it must manage those programs in a trustworthy, HIPAA-compliant, secure environment.
An effective health action platform supports more than just specific program objectives and content specifications. It enhances the healthcare organization's brand by delivering a familiar, impactful experience which in turn builds stronger trust with plan members and patients, and empowers meaningful health action.
Humanizing health action requires the ability to handle data in a way that delivers a frictionless experience, while providing health plans and providers the essential insights for driving better health outcomes and stronger Medicare Star Ratings.
"Technology supports the relationship between the health plan and member, or provider and patient – it doesn't build it. Strong relationships are created from personalized, relevant messages delivered at the right time and in the right way."

– Kyle Gunderson, President & CTO, Revel
Data Driven Health Action Experiences that are Human
Imagine a world where you only receive relevant and timely communications, tailored to your exact preferences. Sound too good to be true? It's possible with precision health engagement. By keeping the individual at the center of care, this approach moves people to take action and improve their health.
However, improving the member experience, and subsequently gaining higher Medicare Star Ratings will only occur after trust is established, digitally or otherwise. A data driven culture puts the member or patient first. Removing silos takes time, effort, and a willingness to trust and collaborate between departments. Yet alignment yields huge benefits to the member and patient experience. This approach makes it easy to adapt and respond to an individual's healthcare journey in an informed, impactful way.
Join the Health Action Revolution! 
Sign up for the Rev Up Newsletter to get the latest health action best practices, insights, and news in our complimentary monthly newsletter.